Posted by: CS Shilpi Thapar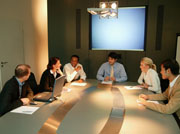 What is Corporate Governance?
The Institute of Company Secretaries of India defines Corporate Governance-
"Corporate Governance is the application of best management practices, compliance  of  law  in  true  letter  and  spirit  and  adherence  to  ethical standards  for  effective  management  and  distribution  of  wealth  and discharge  of  social  responsibility  for  sustainable  development  of  all stakeholders."
In recent years, corporate governance has received increased attention because of high-profile most talked scandals i.e.  Enron in USA and Satyam in India, involving abuse of corporate power and, in some cases, alleged criminal activity by corporate officers.
Meaning of Independent Director-
A layman's definition of an Independent Director can be –
A corporate director who has no material relationship with the company in which he or she serves as director.       For example, an independent director cannot be employed or have a family member employed by the company.
Who is an Independent Director?
As per Listing Agreement as per SEBI, an Independent director' means a non-executive director who –
(a) apart from receiving director's remuneration, does not have any other material pecuniary relationship or transactions with company, its promoters, its directors, its senior management or its holding company, subsidiaries and associates, which may affect independence of the director.
(b) is not related to promoters or management at the board level or at one level below the Board
(c) Has not been executive of the company in immediately preceding three financial years
(d) is not a partner or an executive or was not partner or an executive during the preceding three years, of any of the following – (i) the statutory audit firm or the internal audit firm that is associated with the company and (ii) the legal firm/s and consulting firm/s and consulting firm/s that have a material association with the entity
(e) is not a material supplier, service provider or customer or a lessor or lessee of the company, which may affect independence of the director and
(f) is not a substantial shareholder of the company, i.e. owning two percent or more of the block of voting shares.
(g) Is not less than 21 years of age.
Independent directors may have a tenure not exceeding a period of nine years on the Board. [This is not a mandatory requirement].
Need of Independent Directors…
 To fulfill statutory compliances for appointment of Independent Directors as laid down as per listing agreement and applicable provisions of The Companies Act,1956.
To have representatives on the Board who shall watch that the affairs of the company are run in a transparent manner, scrutinize the management performance,oversee that the interest of all its stakeholders (investors, employees, vendors, customers, government and society at large.) are well protected, Resolve the conflicts, Establish best Internal controls and enhance the value of the company.
Changes in concept of Independent Directors as per Companies Bill, 2011
 Minimum 1/3rd of the total no. of Directors shall be Independent ; however Central Govt. shall have the power to increase – decrease  such minimum no. of independent directors in any public  company .
Independent Director shall be appointed by the company from the data bank of independent directors  as maintained by the CG and put on their website for the use of the companies making appointment of such independent directors.
Any resolution passed in the absence of the independent director shall be final only on ratification of such resolution by at least one independent director.
Audit committee shall consist of minimum three Independent Directors.
Schedule IV prescribes the code of independent directors.
Are Independent Directors (ID) truly Independent?
Most of the ID  joined the companies due to their friendly relationship with promoters. So there will be rare dissent in the Board room.
Policy makers have prescribed the criteria of "Independence". No criteria as of possession of knowledge and expertise is prescribed for appointment of Independent Director. So How can we expect a Graduate or even undergraduate though "Independent" to audit the state of affairs of the company?
ID do not have any means of verifying the information provided to them by the management of the company.
Most of the times, IDs are not aware of what they are supposed to do in the Board Room.
Every Meeting of Board and Committee fetches Rs.20000/- sitting fees and even 1 percent of Net Profit is permissible by Law for distribution among IDs and they can also fetch remuneration by presenting them on board of subsidiaries. So the entire remuneration structure of IDs are controlled and managed by the Board of Directors basically promoters, so there can be no dissent in Board room or they will shown the doors. There is pecuniary relationship between IDs and Management.
IDs served on Boards of 15 companies as permissible under the Act and normally they attend 4 to 6 meeting in the year of each company and some times committee meetings are there on same day of Board Meeting. So they are unable to devote quality time.
No women power on Board. Ratio is just 2-5 percent.
There are poor board practices. Voluminous agendas of Meetings are circulated to all directors at shorter notice and critical items are placed at the end so that no time is there for directors to discuss the matter in details and even minutes are circulated late according to will of promoters.
If IDs resigns or dies, there is no succession plan, no time limit is prescribed by the Act to appoint new ID except as per SEBI, it is 180 days which is also too long.
My Suggestions for Making role of Independent Directors(ID) More Effective..
 1. Appointment of Independent Directors should be made by the reputed agencies rather than Board or Shareholders and remuneration should also be paid by these independent agencies to them.
2.  Policy Makers should prescribe criteria for appointment and selection of ID not only on basis of "Independence" but knowledge of specifics, good track record, good business reputation, experience and expertise.
3. Proper Protocol or framework/Agendas should be drafted for IDs by the Policy Makers in the areas of Risk Management, Annual Budgeting, Significant transactions of non recurring nature, cash management, recruitment/attrition of below board level employees, Default in any of financial obligations, All statutory compliances and defaults, Funding options and HR Management Initiatives.
4. Indemnification Policies should be prescribed by the Policy Makers for IDs serving on Board of Companies.
5. Sharing in Profits by IDs should be banned as it in USA and UK as it will decrease the dependence. Cap on overall remuneration drawn by IDs should be fixed.
6.  Certain minimum age i.e 35 years and maximum age i.e 65 years should be prescribed to ensure the proper vigilance.
7.  Profiles of proposed IDs to be appointed by the company should be placed at its website for stakeholders comments.
8. The definition of "Relatives" as per The Companies Act,1956 should be expanded to cover Mother's Side and Wife side relatives and also to cover more relatives.
9. Provisions of Quorum of Meetings should be amended under the Act, so as to include compulsory presence of at least 50 percent of Independent Directors in the Meetings.
10.Proper Budget should be given to the IDs by the Company for appointment of outside legal experts, consultants who can guide them individually in case of conflict of Interests.
11. Self Regulation instead of enhanced and mandatory regulations should be promoted by the Policy Makers i.e in form of mandatory ethical code, reputation pressure.
What you say??
( References: 1. The Naked Truth about Independent Directors by Prithvi Haldea,  2. Online reports and publications on ID's and Corporate Governance.)